Send Inquiry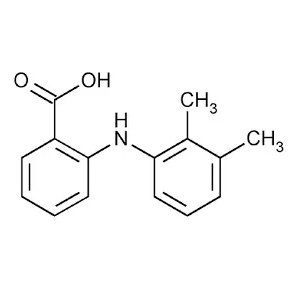 Product Specifications
61-68-7

241.285 Grams (g)

C15H15NO2
Product Description
Mefenamic Acid
Introduction
The mefenamic acid is NSAID (Non-Steroidal Anti-Inflammatory Drug), which may effect in rising the risk of fatal or serious blood vessel and other heart problems such as stroke, heart attack, stomach ulcers, bleeding, etc. If you have heart problems or are consuming this acid for a long duration, then the risk may be greater. It is recommended to not to use mefenamic acid right after or before bypass surgery of heart. Moreover, older patients are prone to experience great risk, which can occur without any signs of warning.

Mefenamic acid is used for:
As the name of the acid depicts, it may obstruct particular substances in the human body, which are connected to swelling. It is mainly used to treat inflammation and menstrual pain. But it should be used for short time period, say, for seven days or even less. Further, doctors recommend this acid also for treating other conditions as per their study.

Do NOT use mefenamic acid:
Many people suffer from different kind of diseases, allergies, etc. For them, below are the factors that are to be considered if any of them is applicable to them:

Don't use our acid if you are allergic to any of the content in the mefenamic acid.

If you ever had or have critical allergic reaction such as hives, growths in the nose, severe rash, trouble breathing, etc. to NSAID like celecoxib, ibuprofen and others.

Do not use mefenamic acid if you have or had bypass heart surgery.

If you have problems of kidney, inflammation or ulcers of the bowel or stomach.

Females who are in their last three months of gestation.

If any of the aforesaid is applicable to you, then right away contact you health care provider or doctor.

Before using mefenamic acid:
There are various medical conditions that may react with our offered mefenamic acid. We suggest to consult the pharmacist or doctor, if any of the following is applying to you:

If you are pregnant, breast-feeding or planning to become pregnant.

If you are taking any sort of nonprescription or prescription medicine like dietary supplement or herbal preparation.

If you are allergic to foods, medicines or any other substances.

If you ever had problems of diabetes, bowel, fluid buildup, asthma, liver disease, mouth inflammation, growths in the nose or stomach, for examples, ulcers, bleeding, perforation.

If you are suffering from blood disorders, clotting or bleeding, blood pressure, blood vessel disease, heart problems or any other critical disease.

If you possess dehydration, poor health, low blood sodium levels, low fluid volume or if you drink or have history of drink abuse.

How to use mefenamic acid:
250 mg is applicable for the listed strength(s).

Please don't consider our information as a medical advice. Always visit your pharmacist or doctor before using mefenamic acid.

Usual pediatric and adult dose for:
Dysmenorrhea and Pain

For pain and Dysmenorrhea, adults and children of age 14 or above are suggested to follow the bellow instruction:
Usual Adult & Pediatric Dose for Pain and Dysmenorrhea

Take 500 mg orally once as a first dosage.

After the initial dosage take 250 mg orally every 6 hours as required.

The therapy for pain does not exceed 1 week while Dysmenorrhea it takes 2-3 days.

Therapy for pain do not exceed one week while it takes two to three days for Dysmenorrhea.

Use: Basically used to get rid of acute pain and primary dysmenorrhea.

-The therapy should be begin at the emergence of bleeding and allied symptoms.

Precautions

US BOXED WARNINGS: HAZARD OF GRAVE CARDIOVASCULAR AND GASTROINTESTINAL CASES:
-Non steroidal anti-inflammatory drugs (NSAIDs) reason an exaggerated hazard of grave cardiovascular (CV) thrombotic case, cardiac muscle infarction and throw, which can be deadly. This endangerment may happen early in treatment and may gain with continuance of use.
-This drug is indicated in the setting of structure artery bypass graft (CABG) surgery.
-NSAIDs grounds an accrued peril of earnest gastrointestinal (GI) harmful events including ulceration, bleeding and perforation of the stomach and intestines, which can be deadly. These cases can happen at any time during the usages and come without cautionary symptoms. Aged patients and patients with a preceding past of peptic ulcer disease and/or GI bleeding are more at the risk of grave GI events.

Safety and efficacy have not been deep-rooted in patients below the age of 14 years.

It is recommended to consult the WARNINGS section for extra precautions.

Administration advice:
-Take it orally with milk or food.

Side Effects
The mefenamic acid which is in the form of oral capsule can cause many undesired side effects due to its excessive and unbalanced consumption. In some cases, medical attention is required. This acid has both minor and major side effects, which can be common, rare or less common.
Major side effects

Minor side effects

Most common

Most common

Bloody, Black, Or Tarry Stools

Heartburn

Rashes

Acid Or Sour Stomach

Full Feeling

Hearing Loss

Stomach Bloating

Decreased Amount Of Urine Or Frequency

Increased Thirst, etc

Passing Gas

Belching

Stomach Discomfort

Less Common

Less Common

Irregular Heartbeat

Fainting

Slow Heartbeat

Sleepiness

Sensation Of Spinning

Unable To Sleep

Dizziness

Noisy Breathing

Headache, etc.

Lack Of Appetite

Trouble Sleeping

Fear, etc.

Rare

Rare

Chest Discomfort

Sneezing

Red, Irritated Eyes, etc

Appetite Changes

Change In Hearing

Burning, Dry, Or Itching Eyes, etc.
Enter Buying Requirement Details
Other Products in 'Active Pharmaceutical Ingredients' category